03-11-2011
NEEDISON
Al jullie moeite en mail heeft niet mogen baten.
Met maar een aantal stemmen verschil hebben we de Edison niet gewonnen. We vinden het heel erg jammer maar willen jullie wel heeeeeel erg bedanken voor de inzet en support.
Die is hartverwarmend!
Er zijn geen verliezers maar winnaars en wellicht ben JIJ wel een van die
winnaars die binnenkort door ons wordt uitgenodigd om gratis een Trinta
theaterconcert bij te wonen.
Dus, hou je mail in de gaten èn check in de tussentijd onze
agenda
als je echt niet kan wachten en sowieso verzekerd wilt zijn van een kaartje voor Sensuàl in de theaters.
Met opgeheven hoofd en een portie 'tique-tim' groeten wij jullie!
Um abraço,
Sensuàl
...
24-08-2011
Hello!
Hello!
Hopefully you all had an excellent vacation.
We have and are looking forward in seeing you again at our concerts.
From September we will start playing at the theaters again but you will also be able to see us play at some festivals in August and September. Be sure to check our agenda for dates. In the meanwhile we are still keeping our fingers crossed for an Edison. Thanks so much for all your votes! On September the 1st we will hear if Sensuàl made it to the final top 3. If so, you'll be the first to know!
Till next time!
um abraço, Sensuàl...
11-01-2011
Hi everybody...
Welcome to our first official blog!
Eventhough we've already reached the 11th day of this brand new year, Sensuàl wishes you all the best for 2011 ( I guess we're still allowed to do so ). May all your dreams, desires and goals be fulfilled. One of our goals has already been fulfilled; we've released our third album 'Trinta' ( Which means 'Thirty', by the way ). Check out our 'YouTube' account to see video footage of the recordings and everything that happened behind the scenes ( like eating spaghetti ice-cream, watching football and playing table-tennis ) during our stay in SUPOW studios in Cologne, last summer.
We started of 2011 with the 'reprise' of our 'Brazilian Jazz 'n Grooves' theatertour. In this tour, originally directed by Leoni Jansen, we tell the stories behind the songs and give you an inside in how we write our music. We had lots of fun setting up this tour and ofcourse we hope to see you at one of our concerts. Tourdates, Twitter, Facebook, YouTube, photos, news and more can be found on our new website. Have a look around and feel free to leave a message on our board.
Até logo and a abraço,
Eva and the boys from Sensuàl
...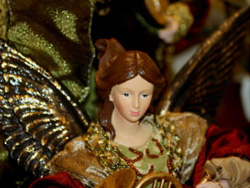 24-12-2012 Holy Night TV
Merry Christmas to all of you!
Eva & Emiel were invited by the IKON to play 'Sabe de mim' at tv
program
'Helige Nacht'
(Holy Night) which will be aired on Christmas Eve, Monday the 24rd of December at 22h15 on Ned.2. On the 26th of December the program will be aired again at 10 a.m. on Ned.2.
Can't wait until the 26th of December? Check our song from 5:50min by clicking this
link
!
---